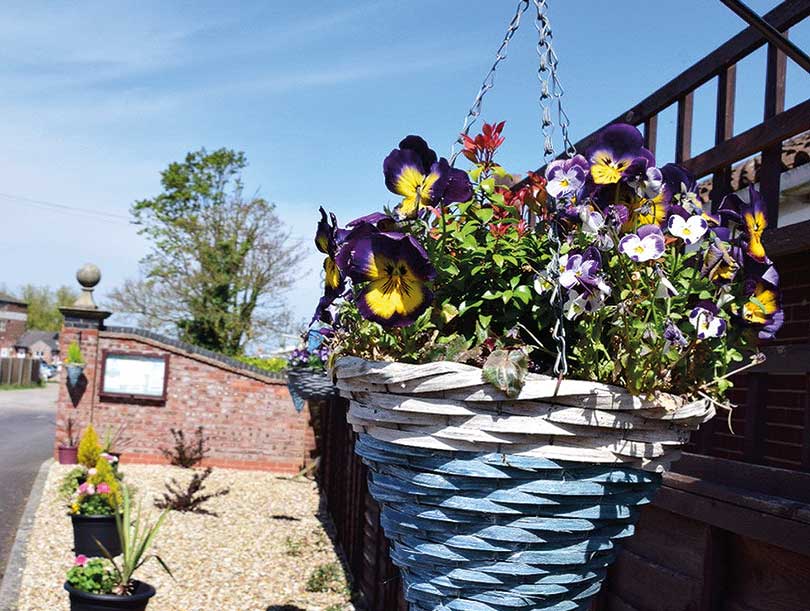 With months of lockdown under their belts, residents at Marina View, in Lincolnshire, took the opportunity to renovate their homes and gardens, as some explained to us…
We reported on Marina View residential park in these pages a few months before the lockdown started, as one of our usual park profiles. It's a relatively small park with around 130 homes that enjoys a lovely riverside location in the Lincolnshire countryside. As with many other parks all over the UK, residents have been trying to find ways of putting the time under lockdown to good use, with some working on their gardens, while others carry out DIY work inside their homes.
On our behalf, the park's enthusiastic manager Wendy has been chatting to some of the residents, to let us know how they have been spending their time under lockdown – keeping a good social distance while doing so, we should add!
Keeping busy
Wendy began by explaining to us what life has been like at the park over the past few months. She said: 'During lockdown the whole place has pulled together, with everyone looking out for each other. Residents who have vulnerable neighbours have helped them when they can: for instance, going to the shops or pharmacy, they will pick up shopping and medicines.
'The park is next to a river with a footpath alongside it which has played an important part in the life under lockdown at Marina View. It has become a place to exercise, socialise and contemplate – all while social distancing of course.
'People are walking and cycling along it, plus it is wide enough for mobility scooters, so everyone can move around easily all while keeping at a safe remove.'
What other activities have residents been undertaking during lockdown? Wendy continued: 'Those that are lucky enough to live in homes along the waterfront have spent time painting their fences and adding flowers so this area is now looking great.
'Those residents who are living alone can go down to the riverbank where they can sit and talk to people as they go by, plus residents along the front have sometimes been putting on their music, so it has become like a holiday resort… the Costa del Marina View!
'For those residents that are often away on holiday in their touring caravans, it has also provided a bit of an alternative place to go and relax, giving them a holiday feeling without actually travelling anywhere.
'Everyone has made a point of keeping an eye out for their neighbours and ensuring nobody is left feeling isolated.'
What sort of jobs have residents been undertaking? Wendy explained: 'In general, the main lockdown activity on the park has been gardening. The whole park is now looking fabulous, with all the gardens and fencing spruced up. The park community has worked together and the residents' association was also heavily involved with VE Day celebrations.'
Cornish garden
Talking about holidays, the park's residents don't have to go far to see a Cornish garden, because residents Mike and Elaine Cornish have spent a lot of their time in lockdown working on their garden. They are lucky enough to have a home on the edge of the park, overlooking the riverbank. As with many other parts of Lincolnshire, the bank of the river is built up above ground level, like a dam, so the back of their garden actually climbs up the side of the riverbank, giving them a chance to plant on the slope.
They cleared out much of the old vegetation and relandscaped their plot, with wooden supports holding back different levels of planting. They have used gravel infill between the plants, which gives a clean feel to the garden. In addition, they have tidied up the gravel area around their home, which has a stone-slab pathway running through it. The couple are very happy with the results of their work, so now they can just sit back and enjoy the results in the summer sunshine!
DIY dynamo
Another of the park's residents, Carl Crouch, used the time under lockdown to complete renovation work on his home. He explained: 'I've been working through a lot of the jobs that I've been meaning to do for ages, but had not got round to doing before.'
The fairly extensive list of renovation work undertaken by Carl includes revamping his kitchen, bathroom and living areas, as well as painting and updating the exterior of his home.
Carl enthused: 'I wanted to keep busy so that I didn't get bored being sat indoors for weeks on end. I thought it was as good a time as any to get stuck in. Now I've completed all the jobs I can sit back and enjoy the fruits of my labour! I am looking forward to when things get back to normal, so that I can go out and enjoy myself without having to worry about any work left to do at home.'
Want to live in the area?
It seems like the residents at Marina View have certainly made the best of their life under lockdown and we wish them all the best as restrictions ease up.
As an established and very popular park, Marina View doesn't have any new homes for sale, but if you like the thought of retiring to this part of the world, the park's owner Tingdene Parks, has recently launched a brand new residential development that is a short drive from the park, on the outskirts of Woodhall Spa.
Called Kirkstead Bridge Park, this small site will have just 20 homes, priced from £121,950 upwards, with an initial show home taking the form of a 40ft x 20 Tingdene Harrington, with two bedrooms and priced at £149,000. For more information, check out www.tingdeneparks.net.