Latest Issue – September 2022
Noticeboard
Welcome
Editor Alex Melvin introduces your September issue, which includes more fantastic parks, homes and specialists from our sector!
Buying a park home
Essential buying advice, legal help, plus specialist industry names to contact
Talking points
Caravan expert Andrew Jenkinson looks back at the Caraboat, a strange amphibious caravan from the 1970s
Parks
Let's move to Scotland
Park home living north of the border is fairly unique for a whole host of reasons. We turn the spotlight on eight exciting residential options to explore
An exciting new chapter!
Sue Hollingshead visits a leafy Lincolnshire park that's just been purchased by Cove Communities after decades of family ownership
Beautiful park homes!
Sue Hollingshead finds out more about Woodside Meadows, a brand new development for 91 homes in Cambridgeshire
The cream of Cornwall
Sue Hollingshead explores Tremarle Park in Cornwall, an established residential park that has a great location close to scenic countryside and popular beaches
Our time, let's live it!
We find out more about Heatherbank Country Park, set in glorious East Renfrewshire countryside
Luxury living in North Wales
We find out more about The Pines, a private new park of just ten plots, offering lovely views of Denbighshire
Friendship that give you a lift!
More from park home resident Peter Jones who extols the virtues of the community spirit on his park, explaining how its helped his wife Kim…
'Why we love the park lifestyle!'
We revisit interviews with residents who've successfully made the move to a park home
Safe as park homes!
Our special feature investigating the fire safety standards of contemporary park homes within a residential context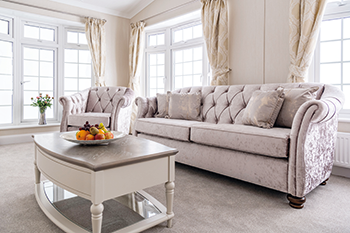 Homes
A rich heritage for innovation
Bella Brodie reports on Omar's Heritage park home and likes what she finds inside this fresh new take on a popular model
To the manor born!
Bella Brodie finds out more about a stylish and brilliantly designed model from well respected manufacturer, Manor Park Homes
Debonair by name… and nature
Bella Brodie reviews the eye-catching Atlas Debonair holiday home and is impressed by the style on show
Enjoy it Nick!
Industry stalwart Nick Burgess has retired from Tingdene Homes after 41 years of dedicated service. We look back on his stellar career…
Services
Beat the energy price hikes!
We find out more about Park Home Solar, an innovative company that could save you a pretty penny on your energy bills this winter
Shows and events
The countdown to adventure is on!
Tickets to the UK's biggest motorhome and caravan show are on sale now! We find out more about the the Motorhome and Caravan Show, which takes place at Birmingham's NEC from 18 to 23 October
Holiday
Your holiday section
An introduction to your holiday section
Buying a holiday home
All you need to know about the buying process
Fifty years of ABI
An icon of the holiday home industry, Beverley-based ABI Leisure Homes celebrates 50 years of success this year. Andrew Jenkinson takes a trip down memory lane to find out what makes this company so special…
Holiday news
More news and updates from around the UK
Lifestyle
Coffee time!
Cookery
Nature
Home help
Products
News, views and advice
News
Puzzles
Your shout
Personal finance
Legal help
Life begins at 50!