Latest Issue – June 2022
Noticeboard

Welcome
Editor Alex Melvin introduces your bumper June issue, which includes the official 2022 Stoneleigh showguide
Buying a park home
Essential buying advice, legal help, plus specialist industry names to contact
Talking points
Andrew Jenkinson gets nostalgic about cars, and we speculate over whether 2022 will be the 'Year of the Show'
Parks
Let's move to Warwickshire
We turn the spotlight on Shakespeare's county and find out what park home propositions
there are
Over 60 years of experience
We find out what makes Berkeleyparks one of the UK's biggest and best park operators…
North Yorkshire luxury
Sue Hollingshead explores the buying options available at Gateforth Park
A Shropshire star!
Sue Hollingshead outlines the benefits of living at Avon Estates' Presthope Grange…
A fresh approach
Turn your retirement dreams into reality with the Charles Simpson Organisation!
There's no place like home
We get the lowdown on Tingdene Residential Parks – an established park operator with 28 parks across the UK…
More choice than ever
We explore two fantastic residential park options from Countrywide Park Homes
Relax by the water
Bella Brodie finds out more about stunning waterside park, Yarwell Mill
Thank goodness for Malcolm
Marston Edge park resident Peter Jones extols the virtues of his handy neighbour, and keen DIYer, Malcolm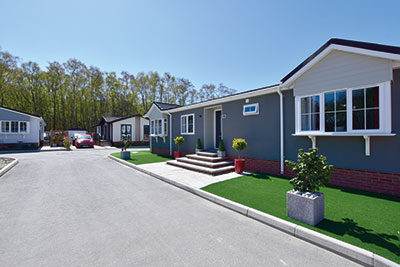 Services
Five buying questions answered
Barrister Ibraheem Dulmeer tackles five key questions surrounding the purchase of a residential park home
Enjoy VIP treatment
Where to meet the Quickmove Properties' team this show season
A gateway to innovation
We take a look at how Gateway Chassis Solutions is supporting industry innovators – in more ways than one!
Holiday

Your holiday section
An introduction to your holiday section
Buying a holiday home
All you need to know about the buying process
The summit of style
Bella Brodie finds out more about the Willerby Sierra – an enchanting new incarnation of a much-loved model!
Next level luxury
We learn more about the second in a suite of luxury lodge transformations unveiled by Victory
Dare to be different
We check out the creations from bold and innovative newcomer, Samlingen…
A lodge retreat with a difference
Bella Brodie finds out more about a luxury lodge retreat in a breathtaking park of the Western Lake District
Holiday news
Four pages of news and updates!
---
YOUR OFFICIAL STONELEIGH SHOWGUIDE!
Your official 35-page guide to the World of Park & Leisure Homes Show
---
Lifestyle
Home Help
Cookery
Nature
Products
News, views & advice
News
Your shout
Personal finance
Puzzles
Life begins at 50!